★Sophia University Overseas Student Safety Management Assistance(HP)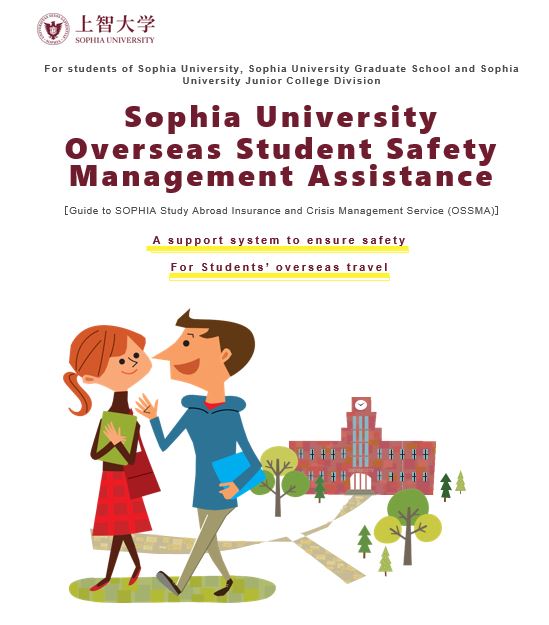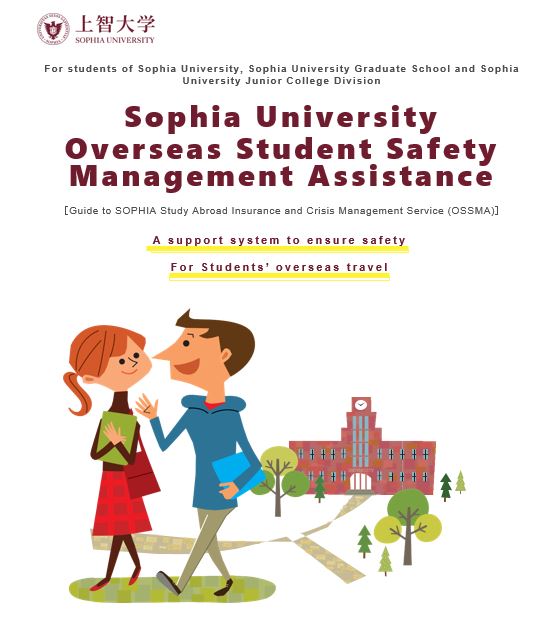 To Sophia Students Study Abroad,

Sophia University decided to implement a new policy in 2015 that requires all outgoing students to join Sophia University Overseas Student Safety Management Assistance. This assistance, including study abroad insurance and crisis management service, is designed for Sophia students. It covers all the period from the dates of departure and arrival from/to Japan. It also covers all the cases occurred on/off campus as well as a travel during vacation.

Sophia Campus Support which supports the student life in university cooperates with Center for Global Education and Discovery of Sophia University and accepts an inquiry and an application about this assistance.


Sophia University regards the safety of our students our utmost importance and requires the Overseas Travel/infection Alert set by the Ministry of Foreign Affairs of Japan (MOFA) to be lower than Level 1 for conducting outbound study abroad programs requiring physical travel including self-arranged study abroad.
◆◆◆ University Policy Regarding the Study Abroad  ◆◆◆
※INFORMATION FOR THIS ASSISTANCE

Study Abroad Assistance Program for the student of Sophia University is a set of services combining crisis management service and study abroad insurance. It will ensure your safety for travel and scholastic life during your time abroad.


FEATURES OF THIS ASSISTANCE AS FOLLOWS:
SOPHIA Study Abroad Insurance
Sophia Study Abroad Insurance offers a comprehensive discount that takes advantages of the economy of scale, and a discount that is adjusted based on the loss ratio.
Crisis Management Service(OSSMA:Overseas Students Safety Management Assistance)
OSSMA is services product providing risk management designed for students to study abroad. This service will support your overseas life in Japanese (or English) on 24 hours/7days basis and help you and solve any problems (whether travel insurance will apply to or not) that you may encounter during your stay. You or your family also can contact "OSSMA Helpline" anytime.
Who must join this system?
Students who will participate in all study abroad programs that Sophia University is concerned with.

Sophia Exchange program, Short-term program, Internship Course,
Study Abroad Program organaized by Center for Grobal Education and Discovery or Faculty or/Department (※1)
General Study Abroad, Study Abroad during Leave of Absence (※2)
International Conference, Seminar lodging trip to abroad, Special researcher(DC1/DC2)

【Points to consider】
(※1) e.g.(the program organaized by Faculty/Department): General Language Program (Department of German Studies)、Independent Research (Faculty of Global Studies)、Study Tour (Center for Student Affairs)、Internship Program (Career Center)etc.
(※2) All Sophia students planning to study abroad on their own by submitting a leave of absence or a request for study abroad(General Study Abroad) are required to join this system for the period away from Japan.
※ It is not for a personal trip. If you are not sure about the eligibility, please contact the Center for Global Education and Discovery (1st floor, Bldg.No.2)at least one month before departure. (Mail: anzen-ofc@sophia.ac.jp)

How to apply:
① To submit the request form to the University. (leave of absence, request for study abroad, etc)
② Please request for application procedure of the Sophia University Overseas Student Safety Management Assistance to Sophia Campus Support by using the request (inquiry) form below.

[ Application deadline ] at least three weeks before the departure
Even if it is less than 3 weeks before your departure, call or contact Sophia Campus Support immediately.
The insurance policy may be required before the application for visa. Please pay attention to your application schedule.

③ According to specified instructions of procedure, please apply immediately.
④ The documents (Insurance Insured card, Insurance handbook, Notification of OSSMA ID number, Invoice, etc) will be sent by post to the designated address in about 2 weeks. (On-campus pickup is also available; please select this option when you apply.)
⑤ Please pay a necessary fees indicated on your invoice at a bank before your departure. Application process is completed when you have made the necessary payment.
⑥ To use the Crisis Management system(OSSMA), you need to Login the website of OSSMA (OSSMA LOCATOR) and enter your basic information and also download of App for safety confirmation before departure.

※For the one participating in a short-term program, the procedure is different from the above . Please follow the instruction from the Center for Global Education and Discovery of Sophia University.

Inquiries about this program
Currently, Sophia University offers "Special Screening Criteria for Overseas Travel" and allows students to travel overseas only if they are approved through individual screening.
Procedures will be provided to those who meet the special screening criteria and have been approved.
The "Loyola Questionnaire" application form will be available after obtaining procedural information from the inquiry below.
Frequently Asked Questions
◆◆◆ Click here to check the FAQ  ◆◆◆
Sophia Campus Support Co.,Ltd.(SCS) (person in charge: Ms.Fujii and Ms.Tsuruta)
Yotsuya Campus Bld.13, 2nd floor of the Fukudaya Building, 7-1, Kioi-cho, Chiyoda-ku, Tokyo 102-8554,
TEL:03-3238-4259/FAX:03-3238-4391/E-mail:scs-tokou-co@sophia.ac.jp
Opening hours: 9:00-17:00 (weekdays only)